TAPA FSR (Facility Security Requirements) is a global standard developed by Transported Asset Protection Association (TAPA) for warehouse security. It specifies the minimum acceptable security standards for warehouses throughout the supply chain, aiming to minimize the loss of goods during storage and transition. In addition, it also outlines the process how an organization can be certified with TAPA FSR.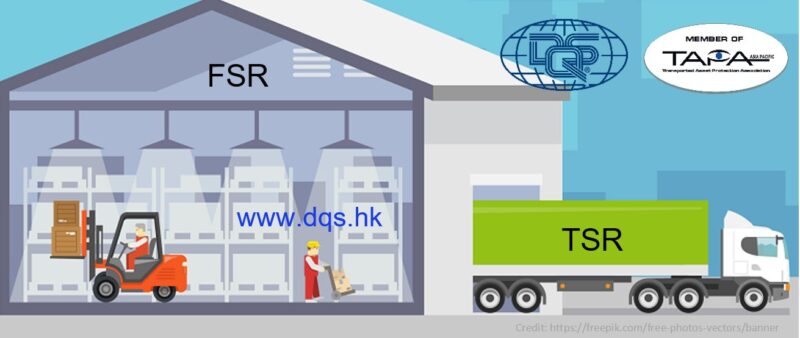 TAPA released the latest revision of FSR in beginning of 2020 (FSR 2020) to replace FSR 2017. FSR 2020 will take effect on July 1st, 2020. The key changes in FSR 2020 include:
It is now separated into two documents, FSR 2020 standard which deals with the preparation for audits and the security requirements, and FSR 2020 certification framework which explains the certification options and process to obtain FSR certificate.
It now includes an option to include multiple sites under one certification.
It provides an enhanced option in section 9 that addresses the security requirements to deal with the IT and cyber security threat.
Service by DQS
DQS is an Independent Audit Body (IAB) authorized by Tapa. DQS HK provides TAPA FSR 2020 and TSR 2020 certification and training service in APAC.
Feel free to contact us for the service you need.
TAPA FSR是由運輸資產保護協會(簡稱TAPA)創建的一個全球性的倉儲或在途儲存設施安保標準。它規定了供應鏈中倉儲或在途儲存設施在安保方面的最低標準,目的是為了減少貨物在儲存和運輸過程中的丟失。此外,它也明確了一個組織如何獲得TAPA FSR認證的規則。
TAPA於2020年初發佈了最新的FSR版本(FSR 2020)以取代FSR 2017版。FSR 2020將於2020年7月1日正式生效,其主要變化包括:
新版標準分成了兩份文件,FSR 2020標準和FSR 2020認證框架。其中FSR 2020標準說明了審核準備和安全要求,而FSR 2020認證框架則解釋了取得FSR認證的可選方案及相應流程。
新版標準在認證方案中增加了多場所認證這個選項。
新版標準在章節9中提供了一個可選項,其中規定了應對IT和網路安全威脅的安保措施。
DQS的服務
DQS是TAPA授權的獨立審核機構。DQS香港可在APAC範圍內提供TAPA FSR 2020和TSR 2020的認證和培訓服務。如有相關服務需要,請聯繫我們。