Self-study for Career Development | 自學也可以成才
Academic education led you to a job offer by chance, whereas lifetime self-studies will lead you to fortune or the career you long for. The Self-study courses from DQS-HK give you not only the flexibility to choose when and where you learn, but also the pace of learning. An candidate with the working and audit experience as specified in the course brochure can go for PECB qualifications by self-study and exam.
學術教育給您帶來了一份機緣巧合的工作,而終身自學增值可以將您引向財富或自己渴望的事業。DQS-HK 的自學課程將為您帶來時間及地點上的便利,您可以自由決定學習節拍。具備課程簡介上所列工作和審核經驗的人員可以通過自學和考試取得PECB 認可資格。

About 關於 PECB
Professional Evaluation and Certification Board (PECB) is a Personnel Certification Body accredited by The International Accreditation Service (IAS) under ISO/IEC 17024 – Requirements for bodies operating certification of persons.
PECB is a full member of International Personnel Certification Association (IPC).
IPC Management System Auditors certification scheme is endorsed by IAF MLA from 30 October 2017.
PECB becomes an IPC MLA Signatory Member from 2018.
PECB becomes a Licensed Partner Publisher of CMMC-AB from 2020.
PECB becomes a member of CPD Certification Service from 2021.
DQS-HK is a Training Partner authorized by PECB.
Terms 條款
a) The service processes are as stated above.
b) For
rebooking
via DQS to a confirmed exam arrangement, at least 10 working days in advance, a handling fee of HKD 300 will be applied.
c) A free
online exam
retake, if required, can be appointed at PECB website by the participant.
d) For an
exam retake
in paper in DQS office, if required, a handling fee of HKD 300 will be applied.
e) Upon
request
, an additional certificate in pdf by DQS Academy can be provided for a self-study course with exam passed, with charge of HKD 300.
f) The participation certificate by PECB of CPD credits mentioned in course brochure is not applicable to self-study courses.
Refer to the
CPD Policy
for PECB qualifications about the CPD hours from traditional self-study courses or eLearning courses.
g) Click here for
Adverse Weather Arrangements
. For a course or exam affected by bad weather, DQS-HK will reschedule the part of affected activities.
h) Above listed prices include:
Access to training materials and exercises in English by PECB during course period
An examination by PECB, either in paper or online approach
A retake by PECB, if required, within 3 months after initial exam
Initial qualification registration fee by PECB, if applicable
i) DQS HK doesn't get involved in other service processes directly between PECB and the participant.
J) More terms for above PECB recognized self-study courses are specified in the Individual Training Service Terms posted at https://www.dqs.hk/customers/contracts/.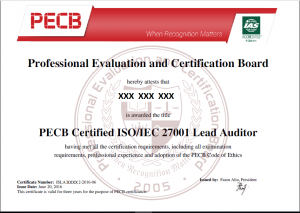 Enquiry  for Training Course Registration: Ms Phyllis Yiu 姚小姐,
+852 – 37522297,  +86-18717733306, info (a) dqs.hk.