BOGE Rubber & Plastics Group, headquartered in Damme Germany, is specialized in the manufacture of automotive components for vibration control technology and rubber-metal components. As posted, BOGE has 11 locations in Germany, France, Slovakia, USA, Brazil, China, Mexico, and Australia. BOGE is one of the worldwide leading manufacturers in the field of rubber-metal technology.
BOGE's strategic alliance with TMT constitutes another milestone on the way to its future. TMT is the world's leading supplier of vibration technology and polymer composite materials in the railway field, which is part of the CRRC Group, the world's largest manufacturer of railroad vehicles.
With the reliable service in the past years, BOGE Rubber & Plastics Group decided to extend the QMS certification service by DQS. The audit and certification will cover ISO 9001:2015 and IATF 16949:2016 for a number of sites in 7 countries on 3 continents.
About DQS
DQS issued the 1st ISO 9001 certificate in Germany, and is the 1st Certification Body recognized by IATF for ISO/TS 16949 certifications in the world. Contact us t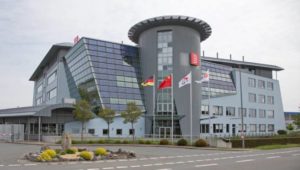 博戈橡膠與塑膠集團在德國、中國、美國、斯洛伐克、巴西、法國、墨西哥以及澳大利亞等國家設有11個基地,是全球領先的橡膠金屬件生產廠商之一。
與時代新材的戰略聯盟無疑又是博戈走向未來的一個新的里程碑。時代新材是全球鐵路行業減振技術以及高分子材料供應商,隸屬於全球最大的軌道交通裝備供應商中國中車集團。
體驗了DQS多年可靠的服務後,博戈決定延續與DQS合作關係,為其多個場地提供ISO 9001:2015 和 IATF 16949:2016 認證服務。
關於DQS
DQS發行了德國的第一張ISO 9001證書,同時是世界上第一家被 IATF 認可提供 ISO/TS 16949 認證服務的認證機構。
Referenced Source:  News of DQS Holding GmbH and website of BOGE.