Project Description
"Together for Sustainability" was initiated in summer 2011 by six of the world's leading chemical industry networks, including its founders BASF, Bayer, Evonik, Henkel, LANXESS and Solvay, and other later joiners.
These well-known networks have nominated DQS to be their certification/audit partner, which shows an enormous level of trust. It is a confirmation that our technical expertise and know-how are well received and appreciated by the chemical industry.
The objective of TfS is to improve the awareness for sustainable action throughout the chain of supply, using uniform sustainability criteria to promote Best Practice and to become more transparent and efficient. To achieve this, the TfS audit program encompasses managerial as well as environmental aspects, health and safety at work, human and employee rights, and also responsible leadership.
The TfS initiative involves independent experts carrying out assessments and audits of suppliers, avoiding the need for each of the members to conduct their own. Results and scorecard ratings are then shared within TfS members on a web-based collaborative platform. As well as avoiding repeated audits and assessments, other benefits include quality assurance, a reduction in the burden for suppliers and the lowering of risks in relation to sustainability requirements.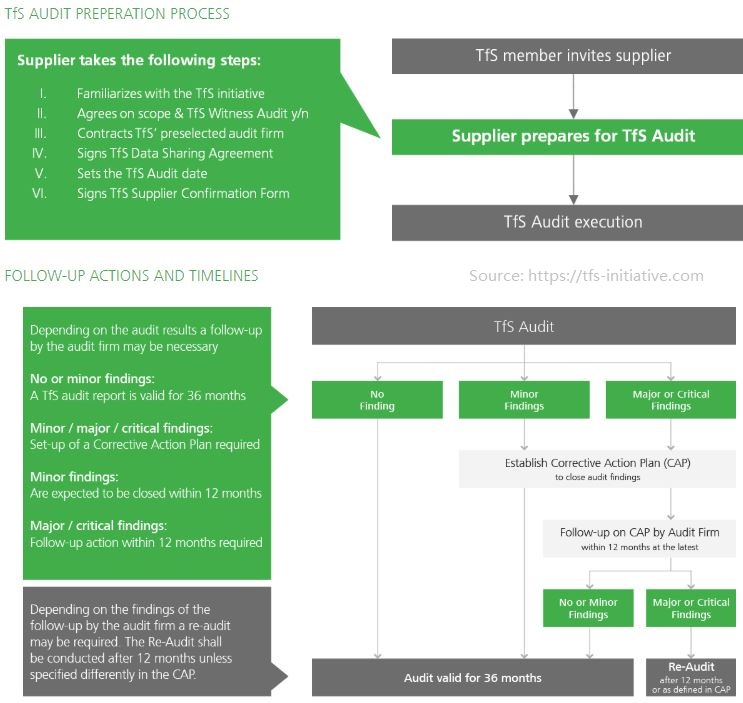 Audit Requirements
Suppliers are expected to meet certain standards and continuously improve in the following areas:
Management:
Management in charge, policies, continuous improvement, management systems, risk assessment training
Environment:
Environmental compliance, waste, air emissions, climate change, water and groundwater, wastewater, energy, nuisance (noise & odor), land use & biodiversity, soil, hazardous chemicals
Health & Safety:
Health & safety compliance, product safety, transport safety, process safety & storage, occupational health & safety, emergency preparedness, medical care, security, hygienic facilities
Labor & Human Rights:
Labor & human rights compliance, child labor, forced & compulsory labor, working hours, minimum wages, freedom of association, discrimination, special work contracts
Ethics and Governance:
supplier standards, memberships, business integrity, privacy & intellectual property, fair competition, disciplinary & compliant procedures
Note: The client shall understand and implement these requirements before the audit.
Validity of TfS Audit
The validity of a TfS audit depends on the audit results:
No or minor findings:
TfS audit report is valid for 36 months
Minor findings:
A Corrective Action Plan is required
Expected to closed within 12 months
Major / critical findings:
A Corrective Action Plan is required
Follow-up audit within 12 months is required.
Depending on the results of the follow-up audit, a re-audit may be required.
The re-Audit shall be conducted within 12 months unless specified differently in the CAP.
Audit Deliverable
Audit report in English, unless otherwise specified
An email from TfS system after the submission of audit report (DQS can't access or provide the contents about the report within the TfS system after submission.)
「攜手實現可持續發展」倡議
「攜手實現可持續發展」倡議由六家全球領先的化學工業商其中包括:始創人巴斯夫、拜耳、贏創工業、漢高、朗盛和索爾維、於2011年夏季共同制定。
DQS受這些知名的化學工業商提名為這個標準的審核機構,顯示出他們對DQS有著極大的信任度。亦證明了DQS的技術專長和知識都受到了化工行業界的好評和讚賞。
TfS的目標是透過使用一個統一的可持續性標準來加增透明度和效率並促進最佳實踐,從而讓整個供應鏈提高對可持續性的意識。為了實現這個目標,TfS審核計劃涵蓋管理和環境、職業健康與安全、人權和員工權益以及負責任領導各方面的要求。
TfS倡議會透過外部獨立專家對供應商進行評估和審核,因此倡議成員都無需要另外再對供應商進行單獨審核。審核結果和評分亦會在內部系統協作平台上與獲授權的其他成員共享。這樣除了可以避免重複審核和評估上有重複外,其他好處還包括質量上的保證,減輕供應商的負擔以及降低與可持續性要求有關的風險。
審核要求
供應商應符合下列標準並持續改進:
管理:
管理層、政策、持續改進、管理體系、風險評估培訓
環境:
環境上的合規性、廢料、廢氣排放、氣候變化、水源和地下水源、廢水、能源、聲音及氣味滋擾、土地利用和生物多樣性、土壤、危險化學品
健康和安全:
健康與安全上的合規性、產品安全、運輸安全、處理安全與存儲、職業健康與安全、應急準備、醫療保健、安全性、衛生設施
勞工權益與人權:
勞工權益和人權符合性、童工、強迫及強制勞工、工作時間、最低工資、結社自由、歧視、特殊工作合同
道德與治理:
供應商標準、成員資格、業務誠信、隱私和知識產權、公平競爭、紀律和合規程序
注:
組織需要在審核前理解和實施這些要求。
TfS審核的有效性
TfS審核的有效性會根據審核結果而有所不同:
無發現或次要發現:
有效性為期36個月
次要發現:
需要糾正措施計劃
有效性將於12個月內關閉
主要/嚴重發現:
需要糾正措施計劃
需要在12個月內進行跟進審核;
然後根據跟進審核的結果,可能需要重新審核。
除非CAP中另有指定,否則重新審核應在12個月內進行。
審核服務結果
審核報告(英文版,若非另文說明)
審核報告提交後由TfS系統發出的確認電郵 (DQS無法獲取或提供報告提交後在TfS系統裏的頁面內容)
DQS HK
As the logistics platform for China Merchants Group, Sinotrans Limited is listed in Hong Kong and Shanghai.  By the end of 2018, as posted, Sinotrans Limited had total assets of RMB 61.5 billion, and revenue [...]