(Rev. Oct 31, 2020, replacing the former version)
On Oct 30, 2020, IATF has updated the global waivers for IATF 16949 certification activities in response to the development of CoViD-19 pandemic. Hereinafter are the key points relevant to our clients, with key updates highlighted in green.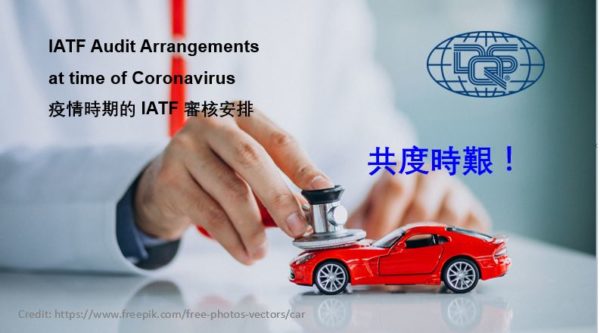 1. Certificates
An extension of 6 months (i.e. 183 calendar days) to every valid certificate (including those in suspension) is approved by IATF. However, it does not mean that all recertification audits are automatically extended.
The current certificate is NOT required to reissue immediately. (Normally, the certificate will be revised after next on-site audit.)
2. Audits
Remote audit is allowed if a regular onsite audit will not be possible for reasons directly linked to the COVID-19 pandemic.

Such remote audits may be applied to Initial audits (Stage 1 and Stage 2, with 1-year certificate validity and audit cycle), surveillance audits, recertification audits, transfer audits, and special audits.

The Surveillance Audits due from Jan 1, 2021 shall be conducted onsite or remotely. The Monitoring event shall NOT be applied any more from Jan 1, 2021.
The Recertification Audits due from Jan 1, 2021 shall be conducted onsite or remotely. The extension in the previous waiver shall NOT be applied any more.
3. Key Points for Remote Audits
3.1 Planning for Remote Audit
Extra time (from 10% to 1 day) shall be applied to complete the additional audit planning for a remote audit.
The client shall provide additional information related to the COVID-19 pandemic to be used as input for developing an audit plan.
The specific remote audit technologies shall be identified.
The specific equipment shall be identified.
Confidentiality requirements shall be identified.
The client shall identify audit coordinator(s) (or host) for the audit, who manages connections, availability of auditees and manages technical issues throughout the entire audit.
A contingency plan shall be in place, in case technology fails or becomes unavailable during the audit.
The client shall have backup equipment, including fully charged batteries for mobile equipment, in case of mobile device power loss or other failure.
The client shall communicate internally to all auditees the remote auditing methods to be used, including the use of video.
The client establishes meeting passwords and other necessary security protocols, only issued to those affected participants for each stage of the audit.
The client ensures all identified auditees are familiar with the communication technologies.
The audit team conduct a successful technology test session with the client prior to the audit for all kinds of ICT applications.
The audit team ensures they have backup equipment in case of mobile device power loss or other failure.
3.2 During Remote Audit
The audit team and the auditees shall activate their cameras to capture as much of the body language as possible when auditing.
All relevant client personnel shall be present in the opening meeting and are identified.
The auditees shall be connected prior to speaking with the auditor.
Regular short breaks shall be taken to avoid screen fatigue.
If during the audit a portion of the audit activities could not be effectively completed, then the equivalent amount of time shall be added to the subsequent audit to adequately cover those activities, with communication during closing meeting.
The audit team shall maintain full control of the audit steps and discussions.
4. Audits already Postponed in accordance with previous Waivers
For a client with postponed audit, an onsite or or remote audit shall be conducted within the current extensions described in this section.

As of 1 January 2021, Monitoring events are no longer permitted. 

This section describes how to manage existing audits which were already

postponed due to the pandemic prior to the release of Revision 5 of this document.
4.1. Stage 2 Audits
An additional extension of 90 days is granted to:
the interval of on-site audits Stage 2 Audit from the conducted Stage 1 audit;
Upgrade Audit from a letter of conformance (LOC) to an IATF 16949 certificate; and
Stage 2 Audit from a LOC to another LOC (with audit time reduction).
If a remote location cannot be planned to audit prior to the manufacturing site, a waiver can be sent to IATF for consideration of approval in advance.
4.2 Surveillance Audits:
An additional extension of 90 days is granted to commence with the Surveillance Audit (as defined in Table 5.1) without starting the decertification process.
After this extension, the certification without surveillance audit will be suspended with maximum 90 days.
A suspended certificate remains valid and is recognized by IATF.
As allowed in the previous waiver, if the on-site audit cannot be planned to conduct before the extended deadline for certification withdrawal due to travel restriction, the IATF 16949 Monitoring process can be used,

which shall be between

30 days before and 60 days after the end of the extension.
If the result is low risk from one or additional monitoring event(s), the applied suspension can be lifted  and the c

ertificate is not withdrawn.
4.3 Recertification Audits:
As allowed in the previous waiver, the scheduling of onsite Recertification Audit, affected by CoViD-19, shall provide sufficient time for NC closure, report review, and certification decision  prior to the prolonged certificate expiration date (original expiration date + 183 days).
4.4 Special audits:
An additional extension of 90 days is granted to commence with the special audit; and
IATF is aware that it will result in a certificate suspension exceeding 110 calendar days, with the suspended certificate remains valid and recognized by IATF.
In all above-mentioned situations the certification body shall enter a comment in the IATF Database, i.e. in the relevant comment field of the affected audit and/or the affected certificate.
5. Nonconformity Management and Certification Decision
An extension of 90 days in total is granted to all the NC management steps defined in IATF Rules, Section 5.11, as applicable.
(That is, the maximum cycle time for NC Management is 90 + 90 = 180 days.)
An extension of 90 days is granted to the certification decision (see IATF Rules, Section 5.12) due to an extended NC management.
(That is, the maximum cycle time for such a certification decision is 120 + 90 = 210 days from the end day of Stage 2, Surveillance, or Recertification Audit.)
Where an onsite special audit is not possible within the extended period, the associated major NCs are to be considered open, but 100% resolved.
The relevant onsite special audit shall be conducted as soon as it is permitted.
6. Auditor assignment
The planned audit team member(s) can be changed for an on-site audit due to official travel restrictions (see IATF Rules, Section 5.6 – force majeure) to the original audit team, with required additional audit days based on experience with the client.

The newly assigned audit team member(s) are permitted to participate on the audit team for the subsequent 3 year audit cycle.
7. Others
For simplification, some other items or details are not included in this communication. This communication has NOT presented all requirements imposed by IATF.
IATF continues to closely monitor the situation and will decide on further adjustments if needed.
About DQS
DQS is the 1st Certification Body approved by IATF for ISO/TS 16949 certification service, which is replaced by IATF 16949 certification at present.
Meanwhile, DQS Academy provides professional IATF 16949:2016 Internal Auditor and Core Tools Training Courses and Online Skill Test for Internal Auditors.
(2020年10月31日更新,替代前一版本)
IATF批准因應疫情的豁免措施
因應近期新型冠狀病毒疫情 (CoViD-19) 的發展,國際汽車工作組 (IATF) 在2020年10月30日更新此前批准的在全球範圍內對 IATF 16949 認證活動實施豁免措施。以下是與我們的客戶相關的主要信息,其中最新更新的關鍵內容以綠色突出顯示。
1.  證書
IATF批准將每一張有效證書 (包括已暫停的證書) 的有效期延長6個月 (即183個日曆日)。然而,這不代表自動延長再認證審核的時限。
當前的證書不需要立即重發。(通常在下次現場審核後對證書進行修改。)
2. 審核
如果由於與疫情直接相關的原因而無法進行既定的現場審核,則允許遠程審核。

遠程審核可應用於初次審核(第一階段和第二階段,證書有效期和稽核週期為1年)、監督審核、再認證審核、轉移審核和特殊審核

審核週期日為2021年1月1日之後的監督審核應在現場或遠程進行;遠程監測自2021年1月1日起不再適用。
審核週期日為2021年1月1日之後的再認證審核應在現場或遠程進行;此前的延期安排不再適用。
3. 遠程審核的重要要求
3.1遠程審核策劃
應策劃額外的時間 (從10%到1天) 來完成遠程審核的額外策劃步驟。
客戶應提供與疫情相關的附加信息,作為製定審核計劃的輸入。
應確定具體的遠程通訊技術。
應識別具體設備。
應確定保密要求。
客戶應確定審核協調員,負責在整個審核過程中管理連接、受審核方的可用性並管理通訊技術問題。
應製定應急計劃,以應對在審核過程中可能出現的通訊技術失效或不可用。
客戶應配置備用設備,包括移動設備的充滿電的電池,以防移動設備斷電或發生其他故障。
客戶應在內部向所有受審核方傳達擬使用的遠程審核方法,包括視頻的使用。
客戶機建立會議密碼和其他必要的安全協定,僅向每個審核階段相關的參與者發放。
客戶確保所有受審核方都熟悉所用的通訊技術。
稽核小組在稽核各種資訊和通信技術應用之前,與客戶進行了一次成功的通訊技術測試。
審核組確保有備用設備,以防移動設備斷電或其他故障。
3.2遠程審核期間
審核組和被審核方應在審核時啟動攝像頭,盡可能多地獲取肢體語言。
客戶的所有相關人員應出席首次會議並識別身份。
被審核方在與審核員交談前,應與被審核員建立好連接。
應定期進行短暫休息,以避免荧幕疲勞。
如果在審核中有一部分審核活動不能有效完成,則應在下次的審核中增加相等的時間,以充分涵蓋這些活動,並在末次會議上進行溝通。
審核組應保持對審核步驟和討論的完全控制。
4. 已根據先前的棄權延后的稽核
對於延期審核的客戶,應在本節所述的當前延期範圍內完成現場或遠程審核。

從2021年1月1日起,不再允許針對監督審核的遠程監測。

本節描述如何管理在本文件第5版修訂發佈之前已經因為疫情而延后的現有審核。
4.1 第二階段審核
以下時間可以在現有規則下額外延期90天:
第二階段現場審核與已經完成的第一階段現場審核之間的間隔;
從符合性證明信(LOC)升級到IATF 16949證書的第二階段現場審核;
從現有的LOC再次申請LOC的帶審核人天減免的第二階段現場審核;
如果外部支持場地無法安排在生產現場之前進行審核,則可以事先發送豁免申請給IATF以考慮批准。
4.2 監督審核
可以在現有規則下的啓動監督審核的到期日期 (見規則5.1) 額外延期90天,而不啟動認證退出程序;
延期後而未進行監督審核的認證將被暫停最多90天;
暫停的證書仍然有效,並得到IATF的認可。
如果由於旅行限制無法策劃在延長了的撤銷認證的期限內進行現場審核,則可以在此期限結束之前的30天到之後的60天的時間段內應用 IATF 16949 監視流程;
如果一次或額外的監視活動的結果是低風險的,則可以取消已經實施了的認證暫停並且不撤銷證書。
4.3 再認證審核
受疫情影響的現場再認證審核的排期應該考慮提供足夠的時間,在延長了(183天)有效期的證書到期日之前

完成不符合項管理、報告評審、和認證決定。
4.4 特別審核
特別審核的到期日期在現有規則下延長90天;
IATF明白這會導致證書暫停時間超過110天,被暫停的證書在此情況下依然保持有效並被IATF承認。
在發生上述情況時,認證機構應在IATF的數據庫中進行備註,即在受影響的審核及/或證書的備註欄中做出說明。
5. 不符合項管理和認證決定
IATF規則條款5.11中規定的不符合項管理步驟合計可以延期90天。


(即是:不符合項管理的最長周期為90 + 90 = 180天。)

如果出現上述不符合項管理的延期,IATF規則條款5.12中規定的認證決定可以延期90天。


(即是:從第2階段、監視或再認證審核的最後一天開始,此認證決定的最長周期為120 + 90 = 210天。)

如果由於旅行限制而在延長了的期限內無法進行現場特別審核,則相關的嚴重不符合項視為未關閉,但"100%已解決"。


有關的現場特別審核應在不受疫情影響的時候儘快進行。
6. 審核員安排
如果原來的審核成員受到官方的旅行限制,認證機構可以更換審核小組成員(參考IATF認證規則,5.6條款 – 不可抗力)進行現場審核, 但應根據審核員對客戶的瞭解程度增加審核時間。

新委派的審核組成員可以參與下一個3年周期的審核。
7. 其他
其他一些細節和跟我們的客戶不相關的內容就不在此溝通中闡述。本通訊未展示IATF提出的全部要求。
IATF將持續緊密監控疫情發展形式,如有需要將會採取進一步調整措施。
關於DQS
DQS是全球第一個得到IATF認可向客戶提供ISO/TS 16949(目前已替代爲 IATF 16949)認證服務的機構。
同時,DQS 學堂 提供專業的IATF 16949:2016內審員和核心工具培訓,以及內審員線上技能測試。