IATF revised Sanctioned Interpretation No. 10 to IATF 16949:2016 standard in recent days, with clarified conditions for the use of a non-accredited external laboratory. It constitutes a revision to Clause 7.1.5.3.2 External Laboratory, which will be as below in Italic. The changes as compared to that in original standard are highlighted in blue. 
7.1.5.3.2 External Laboratory
External/commercial/independent laboratory facilities used for inspection, test, or calibration services by the organization shall have a defined laboratory scope that includes the capability to perform the required inspection, test, or calibration, and either:
the laboratory shall be accredited to ISO/IEC 17025

or its national equivalent (e.g., CNAS-CL01 in China) by an accreditation body (Signatory) of the ILAC MRA (International Laboratory Accreditation Forum Mutual Recognition Arrangement – www.ilac.org) and

include the relevant inspection, test, or calibration service in the scope of the accreditation (certificate); the certificate of calibration or test report shall include the mark of a national accreditation body;

or

where an accredited laboratory is not available (e.g., for specialist or integrated

equipment, or for parameters with no international traceable standard reference),

the organization is responsible to ensure that there is evidence that the laboratory

has been evaluated and meets the requirements of Section 7.1.5.3.1 of IATF

16949.
Note: integrated self-calibration of measurement equipment, including use of proprietary software, does not meet the requirements of calibration.
This revision will be effective from 1 June 2021.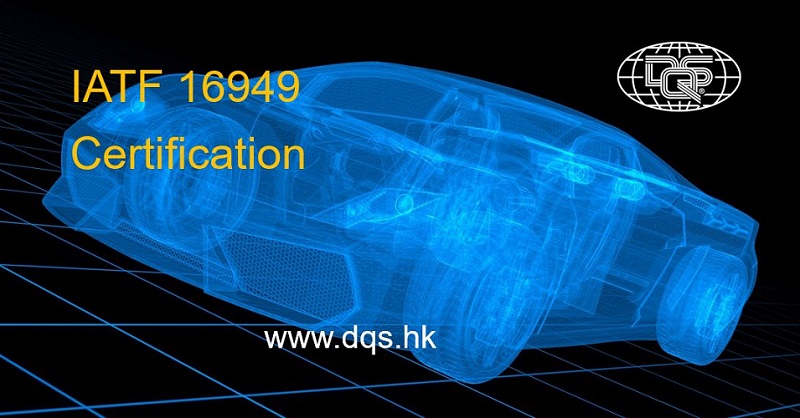 國際汽車工作組 (IATF) 在近日修訂了 IATF 16949:2016 標準的第10項認可解釋,澄清了使用沒有獲得認可的外部實驗室的條件。這將構成對條款 "7.1.5.3.2 外部實驗室" 的修訂。修訂後的條款如下斜體字所示 (翻譯供參考,非標準原文),其中與原始標準相比有更改的以藍色突出顯示。
7.1.5.3.2 外部實驗室
組織用於檢查,測試或校準服務的外部/商業/獨立實驗室設施應具有規定的實驗室範圍,包括執行所需的檢查、測試或校準的能力,並且:
該實驗室應獲得 ILAC MRA(國際實驗室認可論壇互認安排–www.ilac.org)的成員認可機構依據 ISO/IEC 17025

或其國家等效標準(例如,中國的CNAS-CL01)的認可;而且

相關的檢查,測試或校準服應在認可 (證書) 範圍內;校准證書或測試報告應包括國家認可機構的標誌;

或者

如果沒有具備認可的實驗室 (例如: 專用設備或集成設備,或者沒有國際可追溯標準基准的參數),則組織應負責確保有證據表明該實驗室已經過評估並符合 IATF 16949 條款 7.1.5.3.1 的要求。
注:測量設備的集成自校準 (包括專有軟件的使用) 不符合校準要求。
此修訂自2021年6月1日起生效。
About DQS  / 關於DQS
DQS is the 1st Certification Body approved by IATF for ISO/TS 16949 certification service, which is replaced by IATF 16949 certification at present. Meanwhile, DQS Academy provides professional IATF 16949:2016 Internal Auditor and Core Tools Training Courses and Online Skill Test for Internal Auditors.
DQS是全球第一個得到IATF認可向客戶提供ISO/TS 16949(目前已被替代爲IATF 16949) 認證服務的機構。
同時,DQS 學堂 提供專業的IATF 16949:2016內審員和核心工具培訓,以及內審員線上技能測試。
Copyright 版權聲明
The copyright of description approach in this news is reserved by DQS HK. Any republication with or without modification shall indicate the source.
此新聞的描述方式的版權歸DQS HK所有。如果轉載或基於此修改發佈,請註明來源。