Global Presence @ Local Expertise | 全球化服務 @ 本地化評審
Since 1985, DQS (Deutsche Gesellschaft zur Zertifizierung von Managementsystemen) has been the trusted certification and assessment partner for quality-focused companies around the world – companies who are serious about organizational health and long-term success. With audits, assessments and certifications, we help you achieve sustainable business success.
自1985年,DQS(中文譯爲 德國體系認證集團)成為全球以質量為本企業可信賴的認證伙伴。我們關注客戶的組織健康和長遠目標。通過審核、評估和認證,我們協助企業在商業上取得可以持續的成功。
股東結構 | Shareholder Structure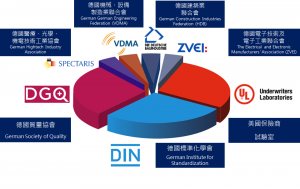 All DQS ultimate shareholders are registered as Non-Profit Organizations.
Our shareholders are the guardians of DQS corporate values and its high quality approach. DIN ensures direct access to and involvement in the newest international standard developments. DGQ and UL promote excellence in education and competence of our personnel, consistently worldwide. Specially, we invite customers to hold seats at the DQS Board of Shareholders. Four major German Industry associations provide us with an inside view of the customers' interest, as well as the experience and knowledge of their industries, therefore mandate our pragmatic customer focus and excellent service.
DQS 所有最終股權持有者都是註冊的非牟利組織。
股東是 DQS 企業價值及品質的監護者。DIN 保證我們直接參與國際標準的發展。 DGQ 和 UL 促進我們全球員工的能力卓越及一致。特別地,我們邀請客戶成為持份者,來自德國的四個主要行業協會,為我們帶來巿場反餉、行業經驗及知識,確保我們務實地遵從客戶關注和提供優良服務。
股東介紹 | Shareholder Background
…

DE: Deutsche Gesellschaft für Qualität e.V.
EN: German Society of Quality
CN: 德國品質協會
–
Founded in 1952, DGQ is the German national organization of quality. The statutory purpose of DGQ is to develop the expertise and methods in the field of quality management, to learn about the latest findings and promote their practical implementation. DGQ is a professional auditor registration and training organization headquartered in Germany, whose registered qualifications are widely recognized in the world.
德國質量協會(DGQ)創建於 1952 年,是德國國家級質量機構,其法定目標是開發質量管理領域的專業知識、研究最新方法和調查結果,並促進其在現實領域的執行和應用。DGQ 是國際上廣受認可的管理體系審核員培訓和資格認定機構之一。
 

…

DE: Deutsches Institut für Normung e.V.
EN: German Society of Quality
CN: 德國標準化學會
–
Founded in 1917, DIN is the German national organization for standardization and is the German ISO member body. DIN is the standards developer representing Germany at the international and European levels. DIN standard designation shows DIN # and varies to DIN EN #, DIN ISO #, DIN EN ISO #.
德國標準化學會(DIN)創建於 1917 年,是德國國家級標準化組織,也是 ISO 中代表德國會籍的會員機構。由德國標準化學會制定的標準,前面都有 DIN 字樣,同時也會制定 DIN EN#、DIN ISO#、DIN EN ISO# 等標準,在歐洲及世界各國廣泛採用。
 

…

EN: Underwriters Laboratories LLC
CN: 美國保險商試驗室
–
Established since 1894, UL is a prestigious product safety standard developer and certification body headquartered in USA. UL standards are widely adopted in electrical and electronic industry, fire, water, plastic, and building materials related industries. The hundred years of UL history is available at:
美國保險商試驗室(UL)創建於 1894 年,是北美著名的產品安全標準制定和認證機構。UL 標準在電力和電子、照明、防火、塑膠和建築材料等相關行業廣泛應用。如想進一步了解 UL 的過百年悠久歷史,可以瀏覽:UL History 美國保險商實驗室歷史
 

…

DE: Hauptverband der Deutschen Bauindustrie e. V.
EN: German Society of Quality
CN: 德國建築業聯合會
 

…

DE: Deutscher Industrieverband für optische, medizinische und mechantronische Technologien e.V
EN: German Optical, Medical and Mechatronic Technologies Industry Association
CN: 德國光學,醫療和機電技術工業協會
 

…

DE: Verband Deutscher Maschinen- und Anlagenbau
EN: German Engineering Federation
CN: 德國機械、設備製造業聯合會
 

…

DE: Der Zentralverband Elektrotechnik- und Elektronikindustrie e.V
EN: The Electrical and Electronic Manufacturers' Association
CN: 德國電器電子製造者協會
發展歷史 | History
DQS merged the MSS division of America's renowned product certifier Underwriters Laboratories (UL) in 2008. With this alliance, Germany's 1st certification body achieved a place among the leading certification bodies in the world. DQS's privilege in Europe and Africa interlocked with UL's long established experience in North America and Asia Pacific, which leads our client to a more professional, one-stop and globalized certification service, and ultimately a worldwide recognition of its product and service.
To strengthen our focus on management system certification, and to differentiate with the traditional product certification by UL, we have simplified our name to DQS. Shareholder structure remains no change.
在 2008 年,德國第一家管理體系認證機構 DQS 與北美著名的產品認證機構 Underwriters Laboratories 的管理體系事業部(UL MSS) 合併,成為全球最大和最具權威的管理體系認證機構之一。DQS 在歐洲和非洲的優勢與 UL 在北美和亞太地區的長久經驗結合,讓顧客能享受到更加專業化、一站式和全球化的認證服務,令其產品和服務在全世界得到更廣泛的認可和信賴。
為強化我們在管理體系的專注,並更好地與 UL 的產品認證進行市場區分,集團在 2015 年簡名為 DQS。股東結構保持不變。
業務分支 | Business Affiliates
認證聯盟 | Certification Network
IQNet – The International Certification Network 國際認證聯盟

DQS is one of the founders of the International Certification Network (IQNet). IQNet is a association of 36 leading certification bodies in scale from 34 countries. The members have in total over 200 affiliates and have issued roughly 300,000 certificates in total, approximately 1/4 of all certificates in the world. DQS certified clients can benefit from the multi-recognition among IQNet members, involving over 40 international accreditations.

DQS 是國際認證聯盟(IQNet)的創始會員。IQNet 是相關各國規模領先的認證機構的聯盟組織,目前擁有來自30多個地區的成員,共發行了約 300,000 張管理體系證書,大約佔世界總數的1/4。DQS 客戶可以得益於 IQNet 成員之間的互認和合作所帶來的國際認可的優勢。

Mr. Michael Drechsel

DQS Group MD, and- DQS集團執行董事之一,and former 和前任
IQNet President – 國際認證聯盟 執行總裁

More about DQS 了解更多
DQS-HK | DQS香港
Accreditations | 權威認可